Greetings! I'm Eric Garrison, author of Four 'til Late, a supernatural fantasy published by Seventh Star Press. I've been asked to interview one of my characters...
Liz: Hello! Are you the interview guy?
Eric: Yep! You must be Liz. Would you mind answering some questions about your recent experiences?
Liz: Oh, not at all. I've already been talking about it on my own blog.
Eric: Oh, the one to go with your webcam?
Eric: No, not like that. I mean...
Liz: Yup, I know, you just drop by for the articles. Uh huh.
Eric: Not all your viewers are like that, I know that for sure.
Liz: Oh true. I get a lot of different folks! Bored housewives looking for company, fellow cosplayers, lonely nerds, even your odd voyeuristic demon possessing jealous ex-wives!
Eric: Aha, that's what I was hoping to talk to you about.
Eric: No, the paranormal experiences you've had.
Liz: (grinning) Yes, of course. Well, so, full disclosure, Brett and I have been paranormal investigators for years. He's a lot deeper into the technical details and all, but I sort of have a nose for ghosts and other spookies. Maybe they're drawn to my weirdness.
Eric: And how are you weird?
Liz: Oh you know. I have a webcam on twenty-four-seven at home, I go poking around in cemeteries after dark, I'm a Discordian, I wear fairy wings as an everyday accessory, and I live in Memphis.
Eric: Memphis? How's that weird?
Liz: Have you ever been to Memphis?
Eric: Yeah I have. I withdraw the question.
Eric: So you go looking for ghosts. Is that what got you wrapped up with the demon you mentioned?
Liz: Oh, I'm not sure of the cause and effect. Could be chicken, could be egg, you know? But this time, it was just a road trip, for fun, with other non-paranormal types. Gonzo
so
doesn't believe in the paranormal, not even if it's right in front of him. Jimbo, well, let's say he had his eyes opened on the trip. And Frannie, well, Frannie I think
is
more than a little paranormal herself.
Liz: Yeah, she's got some kind of psychic connection with the spirit world, she always has. Brett calls it psychokinetic, like paranormal entities get power around her, power enough to move things and manifest, mainly when she's upset. You wouldn't like her when she's angry, Mr. Interviewer.
Eric: (laughing) So I've heard. So, ghost hunters getting hunted by ghosts. Does that make you want to quit investigating paranormal phenomena?
Liz: Are you kidding? It's what Brett and I
do
! Finding paranormal bits to life makes the world a bigger, more fascinating place! Sure it could be dangerous, but so's driving, and you don't see many people giving that up.
Eric: I can understand that. What was your favorite part of the trip?
Liz: Hmmmm. I'll have to go with the Blues and Bar-B-Que Festival in Memphis. Everyone had a blast. We dressed up in costumes - I AM NINJA! - and we danced and ate good food and drank good booze and heard fabulous music!
Eric: Didn't something happen to ruin your time?
Liz: You mean the Shadow that tried to kill Brett? Listen. I don't let bad stuff ruin my happy memories. We survived it, you know? Life's full of good and bad stuff. If you hide from the bad stuff, you'll never get to the good stuff.
Eric: I think I know why you're everyone's favorite character.
Eric: That's what people tell me.
Liz: That's superfantastic! (looking upward) I love you all too!
Eric: Anything else you'd like to say before I wrap this up?
Liz: Just that you'd better be nicer to poor Brett, Mr. Author Guy. He's had it rough.
Liz: I can take care of myself. But nobody messes with my Brett, you understand?
Eric: With you around, I don't think he's got anything to worry about, Liz.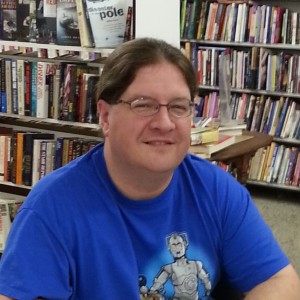 About the Author:
Eric Garrison is active in the writing community in Indianapolis, Indiana. He lives in the Circle City with his wife, step-daughter and four cats. He also enjoys gaming and homebrewing beer.
Seventh Star Press published the first of his Road Ghosts trilogy, Four 'til Late, in July of 2013. The other two are expected to come out later in 2013.
Eric's novel, Reality Check, is a science fiction adventure released by Hydra Publications. This book reached #1 in Science Fiction on Amazon's Kindle store during a promotion in July 2013.
Eric's short story, "Drag Show" appeared in the Fall 2011 edition of Strange, Weird and Wonderful Magazine and Volume 2 of that magazine's anthology series. His flash piece, "Dark Reflection", appeared in the Indiana Horror 2011 anthology. He's competed twice in the Iron Writer Challenge with two 500-word flash pieces, "Killer Cure" and "Moby Me".
Author Links:
Blog:
http://ericgarrison.wordpress.com
Facebook:
https://www.facebook.com/EricGarrisonAuthor
Goodreads:
http://www.goodreads.com/author/show/1978111.Eric_Garrison
Twitter:
https://twitter.com/erichris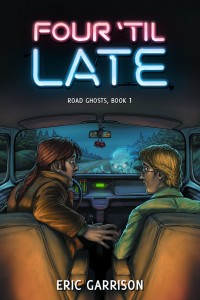 Book Synopsis:
In Four 'til Late, amateur ghost hunter Brett and his friends Gonzo, Jimbo, and Liz are on a road trip with dangerous detours, dreadful dreams and dire warnings. But that won't keep them from reaching their goal: New Orleans. Along the way they discover that some spirits leave you with more than a hangover and regrets. Can they get there in one piece, or will they be stopped and rest in peace? The bags are packed, the engine's running. Turn up the radio and get moving because the road ghosts are waiting, and it's Four 'til Late. Four 'til Late is the first book of the Road Ghosts Trilogy.
Amazon Links for Four 'Til Late:
Print Version
http://www.amazon.com/Four-Til-Late-Eric-Garrison/dp/1937929221
Kindle Version
http://www.amazon.com/Four-Late-Road-Ghosts-ebook/dp/B00E4WO7YA
Other eBook Links
Nook
http://www.barnesandnoble.com/w/four-til-late-eric-garrison/1013893134?ean=2940148741527
Kobo
http://store.kobobooks.com/en-US/ebook/four-til-late
iBookstore
https://itunes.apple.com/us/book/four-til-late/id691150466?mt=11
Internal Illustrations
Tour Schedule and Activities
9/23 Laura VanArendonk Baugh Blog Contest
9/23 Lost Inside the Covers Review
9/23 The Dan O'Brien Project Promo Spotlight
9/24 The Flipside of Julianne Guest Post
9/24 Celticlady's Reviews Promo Spotlight
9/25 Armand Rosamilia, Author Guest Post
9/25 Jess Resides Here Character Interview
9/26 Pick of the Literate Promo Spotlight
9/26 Word to Dreams Review
9/26 Come Selahway With Me Interview
9/27 MikesFilmTalk Promo Spotlight
9/27 Sheila Deeth Guest Post
9/27 Bee's Knees Reviews Review
9/28 Sapphyria's Book Reviews Promo Spotlight
9/28 Laurie's Thoughts and Reviews Character Interview
9/29 I Smell Sheep Promo Spotlight
9/29 Mochas, Mysteries, and More Promo Spotlight