GUEST POST BY REGAN BLACK
The entire redesign of the website and the Shadows of Justice is to celebrate where I've come from as an author as well as where I'm headed in the weeks and months to come.
All five of the paranormal romantic suspense novels in this series count as 'books of my heart' for different reasons and if you haven't given the series a try, now is a great time as each novel is now accompanied by a short story previously only available to newsletter subscribers: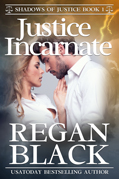 Justice Incarnate
sprouted (long, long ago) from a short story, grew into a daring novel, and became my first sale! I feel like the new art captures the timeless emotional tangle of Jaden and Brian and the new edition includes a bonus short story: The Judge's Wife.
AMAZON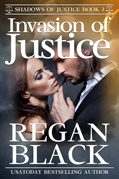 When
Invasion of Justice
was accepted with rave comments by my publisher, it got me over the emotional rollercoaster of whether or not I could deliver a quality sequel. Now, Petra and Gideon's rocky journey toward a happily ever after is accompanied by the bonus short story: Dream Works.
AMAZON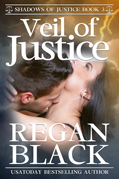 Veil of Justice went through a variety of drafts and lulls in the process because I struggled to write a dark and gritty world while my husband was deployed overseas. No one was more relieved than Nathan when I finally got him out of solitary confinement… his whirlwind romance with Kelly is followed with the bonus short story: From the Ashes.
AMAZON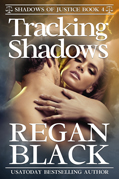 Tracking Shadows
marked a significant new commitment to my career. Slick Micky's romance with Trina might be my favorite of the series, but don't tell the other characters I said so. Their shadow-soaked cat and mouse adventure is joined by the short story: A Gala Extraction.
AMAZON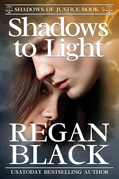 Last (for now)
Shadows to Light
is Mira's tale. The healer who made cameo appearances in all of the previous Shadows of Justice novels is on a rescue mission when she is unexpectedly reunited with a soldier she's never been able to forget. Their daring and dedication is followed by the short story Leanore Makes a Deal.
AMAZON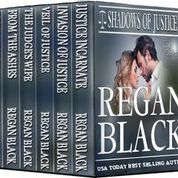 And of course, I updated the Shadows of Justice Collection to include the first three novels: Justice Incarnate, Invasion of Justice, and Veil of Justice and the corresponding short stories: The Judge's Wife, Dream Works, and From the Ashes.
While I adored the previous design of the Shadows of Justice novels, I wanted readers to know they could expect a vibrant romance amid the action packed into each story. If I've learned anything about my writing during this journey through the publishing world, it's that I have been and will always be a "happily ever after" kind of author.
With a core belief that romantic love is an essential part of real life, that treasured joyful relationship will continue to be an essential part of the stories I tell.
Live the adventure!

p.s. Technology is a blast, but occasionally even tech takes a holiday and it seems the new product descriptions haven't caught up with all of the new cover art at some outlets, but rest assured, the new stories are in there.